Oh, no! Not another 'unique' travel gift guide!?!
But wait – this one's different.
No, it's not.
Yes, it is! It's PRACTICAL!
Seriously, the last thing someone needs when traveling is a bunch of single purpose, rarely-used gadgets that do more to weigh down their luggage than to make life easier.
We came up with a list of only our best stuff. I mean Tim and I are traveling full time and we can't be carrying things we don't need. Almost everything here is something we use. We've even included pictures of our own gear.
What's even better, is that a lot of these things are things you can use every day. It's not stuff that only gets used when you travel. We're practical people. We believe in getting as much out of our gear as we can.
So give our list a good perusal. We bet you'll find something that traveler in your life will love. You might even find something for yourself.
*On some of the links provided we might make a commission if you purchase something by clicking through our link. This creates no additional cost for you.
Essential, Useful and Unique Travel Gifts
Mini-Backpack – The Ultra-sil Daypack from Sea to Summit
This has to be one of the most useful items we brought on our travels. If you get this gift for a friend or family member, they will love you all the way through to next Tuesday, forever.
This little backpack holds oodles of stuff – like 17 water/beer/soda bottles-worth. We checked!
Whether you want to carry a change of clothes to the beach or waterfall, or you're getting snacks at a 7-11 in Thailand, you'll be amazed at how much you can carry.
No matter how burdensome the load seems, once you put it on your back, it's easy-peasy.
The compact design when you're not using it makes it easy to keep on whenever you go out. And don't worry, it's not as hard as it looks to get it stuffed back inside of its carry case – which is attached so you don't lose it.
In fact, we were using these well before we started our world tour and they're crazy useful. With the ever-expanding ban on plastic bags, they're perfect to have with you for that unexpected shopping trip.
While you're getting one as a gift, you should probably take advantage of that coupon code above and pick one up for yourself, too. You won't regret it.
---
Passport Cover
If a passport becomes too tattered and damaged, an immigration officer can refuse you entry to their country, even if you have a visa. That's why everyone should have a passport cover.
Of course, we're showing you the gloriously handsome designs created by moi. But what's great about zazzle is that you can fully customize the product.
Have a favorite picture you think would be perfect for your friend's passport cover? Just use the zazzle create studio to plaster it on there, any way you want. You can even add text and graphics.
Or you can just get the Wise Monkey to glare judgingly at your loved one – that's gone, who left you behind, abandoned and alone. Really. They'll love it.
---
Landing Cash in the Local Currency
One of our top travel tips is to land in any destination with some of the local currency in your pocket. This makes it easy to grab a drink or a bite to eat, pay for the cab from the airport, or buy you a souvenir fridge magnet as soon as they arrive.
If you want to give someone travel money, consider giving cash, but do it in the local currency. It will make a traveler's life soooo much easier when they first arrive. And what's great about Travelex is that they'll deliver it right to your door.

Now all you have to do is find a really cool card.
---
Teva Sandals
Teva makes some of the best trekking sandals around. Whether it's a nature hike, enjoying the beach, or a hardcore urban adventure, Teva has the right sandals for the job.
These sturdy shoes aren't just pretty little things. They work hard. My first pair of Tevas lasted 10 years. My second pair is two years old and going strong. Tevas are sturdy and provide good support for those long walking days.
Tevas are a great investment and will make any traveler happy.

---
Darn Tough Socks
These are the best socks we've ever owned. Period. They'll make a great gift for anyone.
The SmartWool doesn't make your feet hot. In fact, it wicks the moisture away to keep your feet dry and comfortable in any situation.
We actually ran some tests on these socks. That moisture wicking thing they do? It keeps them from smelling bad, too. Seriously. Though this does have its limits.
For the un-scientific study, I wore these socks for four days straight. They passed the smell test every time. It wasn't even a question. They weren't borderline okay. These Darn Toughs were fresh as daisies.
Until the fifth day.
On the fifth day, it was time. I'd exceeded the threshold of sock decency and surpassed the limit of whatever that magical form of smell suppression could handle. However, any pair of socks that survive that wonderfully for four long, hard walking days has our vote.
I'll also mention that they're super sturdy. Darn Toughs don't get holes, don't wear out and they don't sag.
AND they've got a lifetime guarantee that is amazing!
If you time you're laundry properly, you could travel on two pairs of Darn Tough socks forever. If you want to play it safe, get three. These are the only socks you'll ever need.
---
Small/Medium Packing Cubes
Packing cubes are awesome for keeping stuff contained and organized inside of luggage, and there always seems to be a shortage of the size a traveler needs. Giving a few small- and medium-sized packing cubes will make you a traveler's HERO.
No joke – these things are gold.
'Nuff said
---
Tech and Electronic Travel Gifts
Digital Compact Camera
That special someone is going somewhere special. They need something better than a cell phone to capture all the cool stuff, but a DSLR is too much, and they don't know how to use one anyway.
The answer? The Panasonic DMC-ZS100 – a really good compact camera.
This little camera was recommended to me by a real photographer in a real photo store. He had all sorts of good things to say about it. One of his favorite features was the fast processor that keeps you taking pictures when the action, or party, heats up.
Even if you leave this camera set to Auto, you will get great pictures 97% of the time. No expertise necessary. You only have to learn a little bit to take this camera to the next level. And when you're ready, it can go full manual.
Most of the pictures on this website were taken with a Panasonic DMC-ZS100.
Note: Don't forget a high-speed memory card, or two. A 32GB card holds about 1000 pics. It's best to upload as soon as possible to make sure the memories are safe.
---
Portable Wall USB Charging Hub
You can't go wrong with a small USB charging hub. Phone, laptop, tablet, camera – it's so much easier if you can set up a charging station in your hotel room. One plug charges all.
Even someone who only carries a phone, probably also has a power bank, or two, so the multiple ports are necessary, and convenient. Add a digital camera, or a tablet, and you can see how a multi-port charging hub can come in handy. If two people are traveling together, we recommend a minimum of 6-ports.
Speaking of power banks…
---
Portable Pocket Power Bank
When you use your phone for maps, Uber, travel guides and social media all day, you're going to need a back-up power supply. This is a no-brainer. Something that's not too bulky in a pocket or purse is ideal. Of course, you want as much power as you can get so it can last all day when you're out having fun. However, make sure your portable battery is rated at 20,000 mAh or less so you don't have trouble taking it on the plane.
We really like the imuto 20000mAh Portable Charger Compact Power Bank for its compact size. It fits easily in a pocket, lasts a long time – and it's Hazard orange!
While we like this one, there are a lot to choose from and you can check them out HERE.
---
International Sim Card
When you're in a new place, you use your phone for everything: navigation, things to do, sights, events, photos, video and of course sharing it all with friends back home. You need data, and you need it bad.
Depending on the length of the trip and whether it's to a single, or multiple destinations, an international SIM card could make a great gift. Check out this page for a variety of options.
This definitely pays off if it's a limited time trip to multiple countries. Then there's no hassle having to get a new card in each country. For a single destination, it's a toss-up. A local SIM card will probably be cheaper, but maybe less convenient. You should be able to land with this kind of card installed and ready to go.
The important thing here is to make sure the card you get covers all of the countries that are going to be visited. Orange is the best card for Europe. Other regions have to be figured on a case-by-case basis.
---
Travel Plug Adapters
Travel adapters can get very clever, but plugs around the world are not created equal. There are plenty of times that multi-function cube adapter would have fallen right out of the wall, or not fit the space well.
That's why we actually recommend a standard set of Travel Adapters. They're more versatile in a wider variety of situations. They can also be combined in a variety of ways to adapt to almost any outlet.
Of course, if it's a single destination trip, you can buy a single style of adapter. Take into account whether the traveler has a USB Charging Hub (above) and how many adapters will actually be needed to stay charged up.
---
Kindle Paperwhite
Does your traveler love to read?
The Kindle Paperwhite is now waterproof and has double the storage capacity.
For the book-lover, having a Kindle while traveling is magnificent. With none of the bulk of paper books, but the capacity for many, it's a great addition to any carry-on to handle long flights and bus rides and lazy days at the beach. What's nice about the Paperwhite is that it can still be read outside on a sunny day without the glare problems of a tablet.
Of course, guidebooks, like Lonely Planet, work great on a Kindle. A traveler can be checking their guidebook, but not look like they're checking their guidebook. Very helpful for not looking lost, and vulnerable.
A Kindle will also come in handy when you land somewhere and none of the TV stations are in your language. Travel is awesome, but there's definitely down time. It's good to have books to fill it with.
Speaking of books…
---
Audible.com – Audiobook Gift Subscription
Audible Gift Memberships
Some people can't, or don't like to, read on a bus or airplane. That doesn't mean they can't enjoy a good book while they travel.
Tim, being mostly blind, is a voracious audiobook reader, and I've enjoyed my share as well. There is nothing better than a great book with a great reader to entertain you and challenge your mind during the down time of travel. With Audible, you just download on your phone or tablet and you're ready to go.
Whether it's a 5-hour flight to the ski resort, or a 10- hour bus ride to visit with mummies in Indonesia, audiobooks from Audible.com are a great way to fill the time.
---
Babbel – Language Learning Program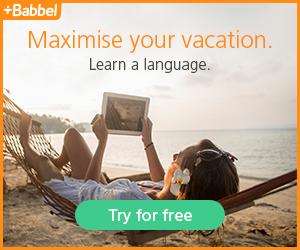 Where Duolingo is great for some basic words and phrases, Babbel delves into teaching languages from a more conversational point of view. It's always good to know a little bit of the language. Just seeing that you've been trying to learn can go a long way with locals.
Getting this app ahead of time will definitely give a traveler a leg up on arrival, but it's never too late to learn some language essentials.
---
Unique Travel Gifts for Adventure Lovers
Hiking Stick
Free Shipping at REI! EVERYONE gets U.S. standard free shipping on orders of $50 or more!
Whether light adventure, like a safari in Mole National Park in Ghana or trekking to see orangutans in Borneo, or something more rugged, it's always good to have a hiking stick. Heck, in some urban destinations, like Jakarta, where sidewalk paving can be immensely questionable, a hiking stick can come in handy.
Between Tim and myself, we've used just about every latching system they have, and each has their strengths and weaknesses.
My favorite is the twist lock because it's very quick when you need to change the length of your stick when the terrain changes. Tim likes the flip-lock system because it's also quick. We're actually having a debate about which is quicker.
The truth is, hiking sticks are super-light and collapse well for packing. They're good to have and easy to carry. A must on almost any adventure.
---
Sun Hat
A good idea for anyone, but especially for light-skinned travelers headed to sunny places. The last thing you want is a fun day kayaking or hiking ruined by heat stroke.
The most efficient sun hats are well-ventilated and will pack flat for easy travel. I have what I call a river hat from REI and it's been great. Durable and light with mesh sides – and I haven't gotten heat stroke, or sunburned, yet.
Our favorite, REI, probably has the largest selection anywhere.
You can also check out our extensive post about hats that are good for African safaris, or any other type of hot weather adventure.
A good sun hat ensures a great day from beginning to end. Make sure your favorite traveler has one.
---
Collapsible Solar Lantern
There are times you're out in the wilderness, or a rural village, or in the Sahara Desert with nomads and you need light after the sun goes down. There are also times when you're in Africa, in any given city, and there's a power outage.
This is when you're a hero if you've brought your own.
The LuminAID PackLite 2-in-1 Phone Charger Lantern we're linking to above is the Cadillac of solar lanterns. You can charge it with a plug, or the sun, and it can in turn, not only provide a lot of light, but keep your phone and tablet charged as well.
It's perfect for illuminating any darkened situation, urban or rural.
Here's a link if you want to look at other types and sizes of solar lanterns.
If the solar lantern is more than you want to carry, consider a headlight, or a flashlight that expands to have lantern capabilities. Trust us, every traveler should have a personal light of some sort. You'll need it more often than you think.
---
Silk Thermal Underwear Layer – Thin
If you're traveling in cool, or cold weather, a warm but thin under-layer is ideal. This can come in handy even if you're traveling somewhere that's usually warm, but you decide to head into the mountains, or find your trip extending into the cool season. Silk is especially nice as it's the lightest and thinnest option.
These thin layers are great because they don't get bulky or bunchy under your clothes and they don't get so hot that you overheat wearing them indoors. They're also great if you're touring a country on motorbike. I wore mine all the time in LA while commuting on motorcycle in the winter – and I hate being cold. These get the job done.
You can find options for other materials and styles of thermal underwear here.
---
Wrapping Up the Gift Guide
So you found something great – right? We hope you found the perfect gift. If you didn't, don't hesitate to contact us with some details about whomever you're buying for and we'll see if we can help.
Your traveler friend is going to be so happy.
Thanks for stopping by! Don't forget to share this article so your friends can give great travel gifts, too.